Good morning everyone. I apologize for not posting earlier in the week but Tuesday especially was very busy for me. I made apple pies and between that, school, and chores my day was filled.
The weather has been much warmer than last week and we've seen mid-eighties the last few days. I wonder what the weather will be like in July and August if it's already this hot.
Today's book is Sing, the second book in The Homeward Trilogy series. This book is a story of redemption, trust, and God's forgiveness. It is also about how we can choose to glorify God through singing or use our voice for selfish pleasures.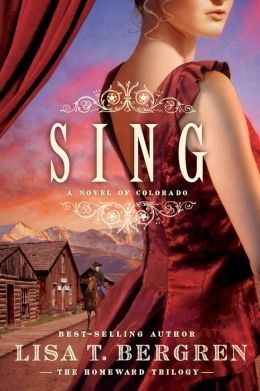 Book Title: Sing
Series: The Homeward Trilogy (Book #2)
Author: Lisa Tawn Bergren
Description:
Moira St. Clair has done exactly what her father forbade her to do: chased her dreams to sing on the stage. But even as her star rises, she becomes more vulnerable to those who wish to use her—or bring her down….

It is 1886, and the St. Clairs are living out their dreams in three very separate parts of the world—Paris, Brazil and Colorado. And while each has found a measure of success and joy, each is haunted by past sins and secrets.
Once home in Colorado, the St. Clairs struggle to learn what it means to sing praise to God—even in the face of tremendous loss—and trust Him in all things, even when forced to fight for their very lives.

My Review: The book Sing is a continuation of the story of Moira St. Clair, the wayward sister of Odessa from the previous book. Although this book wasn't my favorite in the series, I did like it a lot. What I really liked about this book was how it gave a good example of how our talents can be used for good and bad. For many years Moira chose the wrong path but by the grace of God her life changed into something better.

Note: Moira's story is not finished in Sing and you will need to read

Claim

, the next and last book in the series, to complete her story.

My Rating: ⭐⭐⭐⭐

Would I recommend this book?

Yes. This book is for anyone who likes novels with a western theme, romance, adventure, and excitement. (ages 15+)