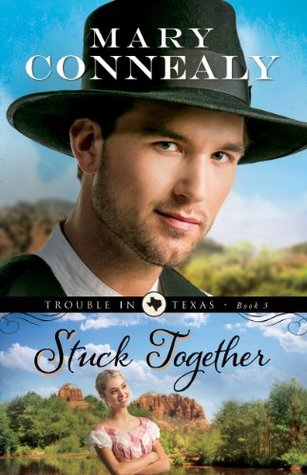 Book Title:
Stuck Together
Publishing Date: June 3, 2014
A little bit about the book:
When a lawman who values order gets stuck with a feisty crusader who likes to stir things up, there's going to be trouble in Texas!

Vince Yates earned the nickname "Invincible Vince" because of his reputation for letting absolutely nothing stop him. Not his tyrant of a father. Nor the injuries he suffered in the Civil War. Nor the fact that he is Broken Wheel's only attorney and sheriff yet has no law degree.

But Vince is about to face his biggest challenge yet: his past has just caught up with him. His father, mother, and the sister he didn't know he had show up in Broken Wheel without warning. His father is still a schemer. His mother is suffering signs of dementia. And his surprise sister immediately falls for one of Vince's best friends. Vince has a lot of people to take care of, and Tina doesn't approve of how he's handling any of them. But with almost all the other men in town married off, Vince finds himself stuck with feisty Tina over and over again. Of course, Tina is the prettiest woman he's ever seen, so if he could just get her to give up her causes, he might go ahead and propose. But he's got one more surprise coming his way: Tina's picketing at the saloon has revealed a dark secret that could put everyone Vince loves in danger.
My Review: Some books grab your interest from the beginning and some don't. From the very first chapter I was captured. I actually laughed out loud during the first pages, which earned me some weird looks from my sister who was in the room. :) Maybe it was just me but the scene was written so clearly I could picture the comical events in my mind. And they were comical! I'm sure you will like this book too. Not only was it funny but Stuck Together was full of adventure and meaningful as well.
After finishing this book I got right on my library's website and put on hold the other two books in this series. I have to wait at least two weeks but if they're as good as Stuck Together I know I will enjoy them immensely. If it's not clear already I definitely recommend this book to read.
My Rating:
⭐⭐⭐⭐⭐
Note: I received this book on NetGalley. I recommend to check this website out. Totally worth your time!
http://netgalley.com