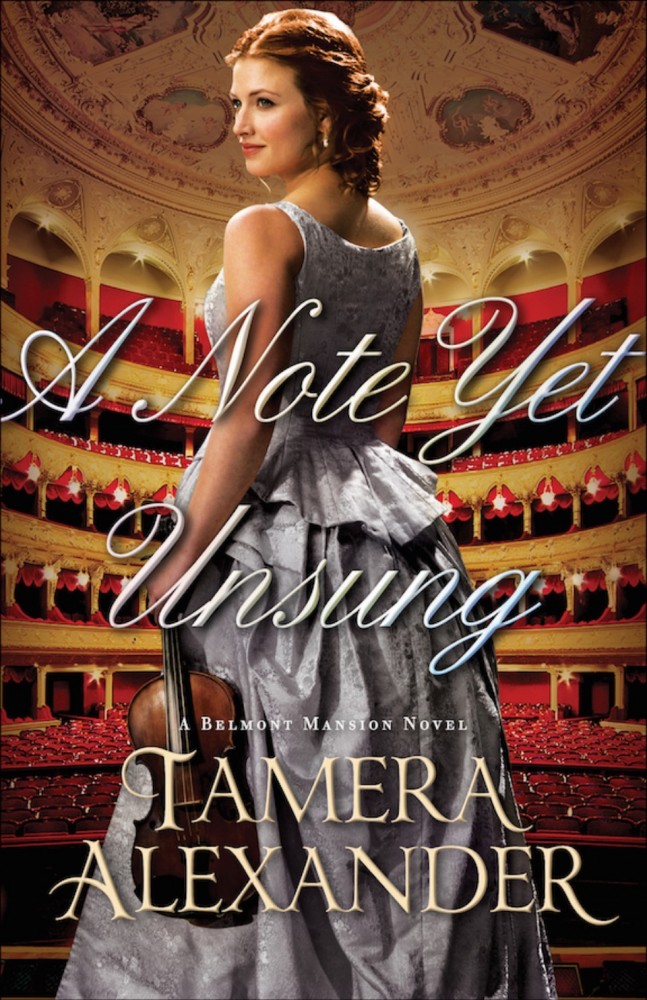 Book Title:
A Note Yet Unsung
Author: Tamera Alexander
Publication Date: January 31, 2017
Publisher: Bethany House
Synopsis:
From the beloved USA Today bestselling author of A Lasting Impression and To Whisper Her Name comes the final and much anticipated novel in the sweeping Southern Belmont Mansion series...
A master violinist trained in Vienna, Rebekah Carrington manages to wheedle her way into an audition with the maestro at the newly-formed Nashville Philharmonic. But women are "far too fragile and frail" for the rigors of an orchestra, and Rebekah's hopes are swiftly dashed because the conductor--determined to leave his mark on the world of classical music--bows to public opinion. To make matters worse, Adelicia Acklen Cheatham, mistress of Belmont Mansion and Rebekah's new employer, agrees with him.

Nationally acclaimed conductor Nathaniel Tate Whitcomb is Nashville's new orchestra leader. And despite a reluctant muse--and a strange buzzing and recurring pain in his head--he must finish composing his symphony before the grand opening of the city's new opera hall. But far more pressing, he must finish it for the one who first inspired his love of music--his father, who is dying. As Tate's ailment worsens, he believes Rebekah can help him finish his symphony. But how do you win back a woman's trust when you've robbed her of her dream?

As music moves us to tears yet makes our hearts soar, A Note Yet Unsung captures the splendor of classical music at a time when women's hard-won strides in cultural issues changed not only world history--but the hearts of men.
My Review:
This could possibly be my absolute favorite of all Tamera Alexander's books! And not just because the main character and I share a name. ;)
When I first picked up the book I thought it would take me awhile to finish. Over four hundred pages can look slightly intimidating if you're not sure you will love reading the book. But because I'm a big fan of the author's previous books I knew I would enjoy the story and so I started the first chapter. Within the first few pages I was hooked! I couldn't stop reading and it was almost the start of a new day before I set the book down.
In a time when women were thought to be to fragile to be a part of orchestras, Rebekah fights against all odds for her music to be heard
. She's my kind of girl! I love her story and her character. Whether you share similarities with her or not you can definitely still relate to things she goes through. I'd consider her a fictional hero of sorts.
The only thing that I feel would have improved this book is the ending. Don't get me wrong I loved it! I won't tell you about it because I hate spoilers but some things were left undone or unclear in my opinion. You might see what I mean after you've read the book too but if not then it was probably just me.
If you are hesitating to read this book for some reason stop hesitating right now. You will love this beautifully weaved story!